String Quartet (acoustic )
Acoustic 4pc (no amplification, acoustic only)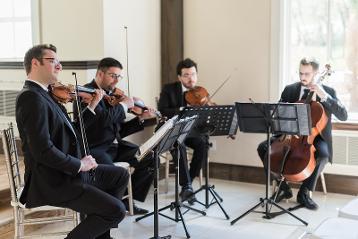 Ancaster Mill private event - String Quartet

Amplified 4pc: mics, speakers, mixer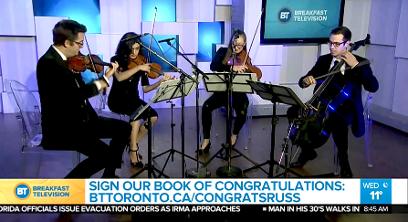 GTA String LIVE at Breakfast TV
9pc, 16pc and more, acoustic or with amplification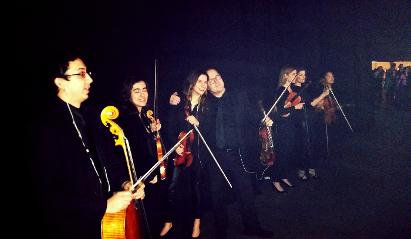 GTA Strings & DJ KYGO at Toronto Enercare

Looking to record album or have orchestra background on your concert:
- 4pc+ recording any genre, Bach to Beyonce
- TV & Movie
- Commercial recording - in-studio or outdoors

- String Quartet or Orchestra backing for Concerts or large events
- 4pc, 8pc, 16pc & 40Pc+

Looking for more budget option or more PRIME service?
(Key factors to determine what is best for your event)
- Are you looking for prime service - full sound or budget solution?
Sometimes, clients are thinking that they shouldn't make unnecessary cost and they ask for Trio.
Most of clients pick Quartet since they have seen and heard exactly what they envisioned for their event.


***Song and genre choice:
*Quartet is the Prime service, ultimate rich sound
(all songs are renditions for Quartet)
Quartet is recommended for any size events:
- If you are looking to have contemporary songs, Pop Rock, and TOP40 Quartet is a must.

Trio is good budget Option
(some songs restrictions)
Trio is intended for smaller events: up to 50-70 guests:
- If you are having traditional classical music only like Bach, Handel, Beethoven, Mozart, Trio is a great solution.