Make GTA Strings a part of your next event!
GTA Strings Corporate Music Entertainment is specialized in creating unique and unforgettable musical experiences for your corporate events. Whether planning a gala, opening night reception, or product launch, our expert musicians will help you elevate your event to the next level with stunning live performances and custom musical arrangements tailored to your needs.
Our services include center-stage performances that will captivate and engage your audience and background music that will set the perfect tone and atmosphere for your event. We can create themed musical arrangements that will add an extra layer of excitement and intrigue to your event and provide announcements music that will ensure your message is heard loud and clear.

In addition to our standard services, we also offer custom-scripted awards performances that will make your award ceremony a truly special occasion. Our musicians can play on custom instruments, ranging from antique to modern electric, and customize their instruments' color to match your event's theme. We also offer custom-themed performer outfits, from dressy classical to steampunk, ensuring that every detail of your event's entertainment is perfectly tailored to your needs.

At GTA Strings Corporate Music Entertainment, we are committed to providing exceptional service and unforgettable musical experiences. Let us help you create an event that your guests will always remember. Contact us today to learn more about our services and how we can make your event a truly unique and memorable occasion.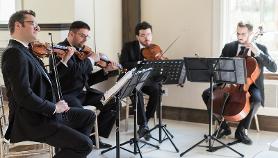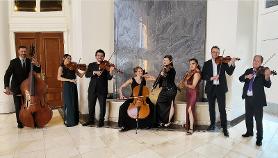 Top40, Pop Rock, Movie Themes, Jazz and Classical Music covers
Center stage performance
Background music
Themed musical arrangements
Announcements music
Custom scripted awards performance
Customized performance

RESOURSES (Songlists, Videos, Samples):