Congratulations on your upcoming wedding! As you plan the perfect celebration of your love, let our live classical music services perfectly accompany your special day. From intimate duos to grand orchestras, our musicians will provide a beautiful and memorable musical experience that will transport you and your guests to a world of elegance and sophistication. Our expert group of musicians has years of experience performing at weddings and events of all sizes, and we are proud to offer a wide range of ensembles to meet your unique needs. Whether you want a string quartet or a full orchestra, we can provide the perfect musical accompaniment to your ceremony, cocktail hour, or reception.
Our live music services are available anywhere in the greater Toronto and Hamilton metropolitan areas including Niagara and Muskoka. We are committed to providing an exceptional experience that will exceed your expectations. With our live classical music services, your wedding will be a truly unforgettable occasion filled with beautiful music and cherished memories that will last a lifetime.
Our music is perfect for:
Prelude: (music while guests arriving, mingling, finding their seat)

Processional Song (bridal party or whoever goes down the isle before the Bride/Groom)

Bride Processional (or

Groom)

Signing of the marriage certificate Song

any Interlude (if needed during the traditional or religious ceremony)

Recessional Song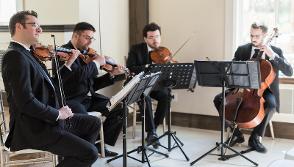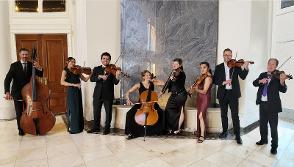 Wedding music most requested songs

1000 Years - Christina Perry (video)
At Last - Etta James (video)
Amazed - Lonestar (video)
Beauty and the Beast(Tale as Old as Time) (video)
Speechless - Dan + Shay (video)
Stand by Me - Ben E. King(video)
Feather Theme - from Forest Gump (video)
Edelweiss - Sound of Music (video)
Here, There & Everywhere - The Beatles (video)
You and me - Lifehouse (video)
Greatest hits 50's - 2000's

POP & ROCK
Traditional Classical Music
Jewish Klezmer music
Jazz Standards
Current TOP 40 Songs
Movie Themes
Game Themes
Anime & Manga
K-Pop
Bollywood music
Country music
cocktails & Receptions, dinner & 1st dance favorites
Perfect – Ed Sheeran (video)
At Last – Etta James (video)
All Of Me – John Legend (video)
Thinking Out Loud – Ed Sheeran (video),
Halo – Beyoncé (audio)
Amazed – Lonestar (video)
Can't Help Falling In Love – Elvis Presley(video)
First Day of My Life - Bright Eyes
Shallow – Lady Gaga (video)
Your Song – Elton John(video)
How Long Will I Love You – Ellie Goulding
Something – The Beatles(video)
Latch – Sam Smith(mp3)
Let's Stay Together – Al Green(video)
I Don't Want To Miss A Thing – Aerosmith(video)
Moon River – Frank Sinatra
A Thousand Years – Christina Perri (video)
Stand By Me – Ben E. King(video)
I'm Yours – Jason Mraz(video)
Wonderful Tonight – Eric Clapton
Kissing You – Des'ree
(Everything I Do) I Do It For You – Bryan Adams(video)

From This Moment On – Shania Twain & Bryan White(video)
Make You Feel My Love – Adele(mp3)
Somewhere Over The Rainbow – Israel Kamakawiwoʻole(video)
You Are the Best Thing – Ray LaMontagne(video)
Thank You – Led Zeppelin
All You Need Is Love – The Beatles(audio)
The Look of Love – Dusty Springfield
Unchained Melody – The Righteous Brothers
Can You Feel The Love Tonight – Elton John(video)
Come Away With Me – Norah Jones
Dan + Shay – Speechless(video)
Crazy Love – Van Morrison(video)
You and Me – Lifehouse(video)
Blackbird – The Beatles (video)
My Girl – The Temptations(video)
Princess Bride – Storybook Love
More than words – Extreme(video)
Wild Horses – Rolling stones(video)
Kiss me – Jason walker (video)
Someone like you – Adele
Book of Love – Peter Gabriel(video)

DOWNLOAD Songlists: (PDF)

Archangel Music - The Song of Heaven
Cantors, organists/pianists, small and large choir
How do we celebrate a wedding? Most churches do not have music or part time musicians untrained in proper liturgy and decorum, leaving no consistency of quality for a wedding mass. As we have been serving the Archdiocese of Toronto since 1986 and are certified by the Vatican through the PISM in Rome, couples and their guests can have a lasting emotional sentiment during their most sacred moment. Our music is superior because it's reliable and remembered. Available at every Church in the GTA.